R 1250 GS Adventure
From 280 590 DKK*

*The price shown is a non-binding recommendation of the manufacturer including 25% VAT and transfer costs. Modifications and mistakes reserved. If you have any questions, please speak to your BMW Motorrad Retailer.
All motorcycles are supplied only with equipment required by law (e.g. reflectors as per Euro 4 standard). BMW Motorrad Northern Europe reserves the right to alter prices and specification without notice. BMW Motorrad Northern Europe has made every effort to ensure the accuracy of information but does not accept liability for any errors or omissions. Actual configuration may differ slightly in appearance to images shown.
THE NEW BMW R 1250 GS ADVENTURE.
YOUR JOURNEY IS THE DESTINATION.
The new BMW R 1250 GS Adventure is built for your challenges. Rough routes, adverse conditions and the most remote destinations are no problem for the queen of travel enduros. With the increase in capacity to 1254 ccm and 100 kW (136 hp), you have even more power for wilderness, desert or country road. In addition to the increased performance, the engine also works more efficiently and gives you the endurance you need in order to reach the next stage finish. The variable camshaft control BMW ShiftCam is an entirely new technology – it offers you sovereignty in every engine speed range and gives the Boxer engine an unprecedented culture. No matter what adventure drives you, the BMW R 1250 GS Adventure is ready to go with you.
THE DESIGN OF THE R 1250 GS ADVENTURE
One destination – many routes.
Well-trodden paths are not your style? Turn your BMW R 1250 GS Adventure into a bike with countless customization options. All variants have a robust appearance with cross-spoked wheels, engine protection bars and hand protectors. Each style, however, comes up with its own details and well thought-out extensions and visually sets a statement. In the basic version, you show cool elegance in "Ice grey". The Style Exclusive makes a sturdy and confident figure, and with the Style HP you underline your claim to performance in motorsport colours. No matter what your style is – the BMW R 1250 GS Adventure is open to any adventure.
Ice grey
The colour Ice grey gives the basic model a special appearance on the road as well as on the terrain. The main frame and handlebars are in silver, the drivetrain, the cross-spoked wheels, the black hand protector and the brake calipers in black and the seats in red / black create attractive contrasts.
Style HP
With Style HP, the R 1250 GS Adventure is particularly sporty. The dynamically acting colour combination in Light white, Racing blue metallic and Racing red is a real eye-catcher on its own. The HP logo, large coloured tapes and high-quality hardware components round off the sporty appearance.
Twin-cylinder Boxer engine
100
kW (136 HP) at 7,750 rpm
143
Nm max. torque at 6,250 rpm
BMW R 1250 GS Adventure on an untravelled road backlit
Discover new cultures.
Discover new cultures.
BMW Motorrad is entering new territory with the BMW ShiftCam variable camshaft control system. What does this mean for you? That means smoother running in the low speed range and high torque in each speed range. This results in a balanced engine running that gives you even more confidence when riding your R 1250 GS Adventure. The engine capacity is now 1254 ccm. This performance increase is clearly noticeable on any terrain with 100kW (136 hp) and 143 Nm max. torque at 6,250 rpm. The high torque curve, the elasticity with impressive sprint qualities and the sovereign acceleration let you experience your adventures with even more intensity. The revision of the engine with BMW Shiftcam ensures an optimal combustion process and thus an overall increase in energy efficiency. 

+ Read more
Experience the sound of the new R 1250 GS Adventure.
BMW Motorrad Spezial
BMW Motorrad Spezial
BMW Motorrad Spezial offers especially high-quality and design-defining billet packs packages for the R 1250 GS Adventure. The HP billet packs underlines the sporty character of the machine with aluminium components in bi-colour look. The option 719 Classic billet packs set stylistic accents with its purist character in a silver-coloured look.
The scope of each package extends to:
Cylinder head cover left / right
Engine housing cover
Cover expansion tank left / right
Adjustable brake lever
Clutch lever adjustable
Mirror left/right
Adjustable foot levers left / right 
+ Read more
Riding Modes Pro.
Riding Modes Pro.
With the optional Riding Modes Pro, the range of applications of the machine can be further extended and adapted to different riding situations and purposes. In addition to the throttle, the control behaviour of ABS, dynamic traction control and suspension compensation Dynamic ESA are adjusted. New additions to the Pro riding modes include HSC Pro and the new Dynamic Brake Assistant DBC, which assists you in emergency braking by counteracting the often unwanted gas operation in such an exceptional situation. 

+ Read more
THE HIGHLIGHTS OF THE R 1250 GS ADVENTURE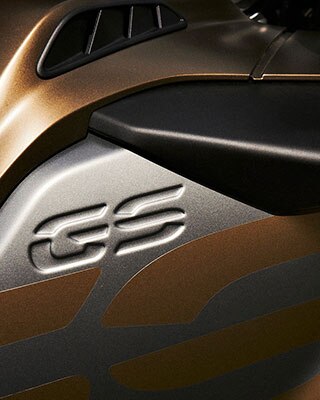 6.5" colour TFT with connectivity in series.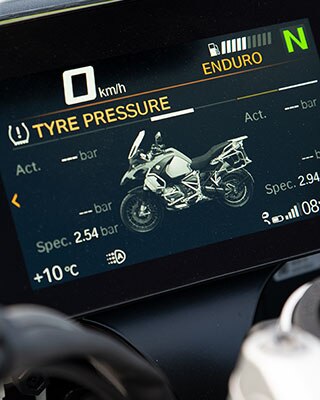 Full LED headlights as standard.